Transparent, open fair tender!
CONDO MANAGEMENT CONTRACTORS IN TORONTO
Which condo management company of Toronto & GTA
might demonstrate a better practice than companies in Montreal?
What kind of quality of condo services and a property market value
might be maintained with $0.39 psf/month condo fee in Toronto? 
Why it is possible to maitain luxury condo buildings in Montreal spending just $0.39 psf/month?
There are a lot of information about cases when low maintenance fees were dangerous for condo owners. It is true that condo management team needs to collect fees that would be enough to provide current expenses and to build a healthy reserve fund for major repairs and replacements in the future and have a small $20,000 - $40,000 contingency fund for any unexpected cases and a healthy reserve fund for major repairs and replacements.
But what is a low condo fee? Which main factors drive condo fees up or down?
A set of amenities & inclusions,
Number of units,
Age,
A condo market value
As it have been revealed in CondoBI past research: 
Generally, the set of amenities influence maintenance fees directly but not significantly. The average and median maintenance fees levels of different buildings' groups are approximately the same and does not depend on such facility as a pool and does not depend on "Hydro" and "Heat" inclusions in the owner's bill.
Generally, the level of maintenance fees tends to be lower if the number of units are higher which makes sense. But there were some exclusions for categories of buildings with a pool, hydro and heating included and for buildings where No pool, No hydro, No heat included the maintenance fees. In such buildings condo fees are growing up with quantity of units increase which is not easy to explain without additional detailed analyses.
As we revealed in the past, generally, the Age of the building influences directly (condo fees increase with the age) except just two categories of buildings where No pool, No hydro, No heat included in the owners' bill and No pool, but Hydro and Heat are included which show that maintenance fees decreases with the age.
And that analyses blasted the earlier myth "The lower maintenance fee drives a property market price up". Based on CondoBI research the graphs and tables Market price influences Maintenance Fees directly for all categories of the building and show clearly the maintenance fees increase the same degree as a property market value increase. 
What might that tendency mean?
Some possible reasons might be:
Highly priced services in luxurious buildings drive maintenance fees up.

Absence, or a weak Condo directors and owner's control. Some owners of expensive properties do not have a time or wish to be involved into Condo cost monitoring or management.

Not effective condo management practice. It might exist because of implicit or explicit conflict of interest 

and/or lack of an appropriate engineering and financial expertise of Condo directors.
Recently, CondoBI made a research to understand: 
what level of maintenance might be provided at the lowest condo fees, less than $0.40 psf / month in Toronto & GTA, 
how those buildings are look like, 
what kind of amenities and inclusions they have and 
what level of market value those buildings have,
is there any good examples providing a higher level of maintenance at this $0.40 condo fees limit?       
Using Condo Management Ranking page of condo-benchmarking.ca we have got a list of high rise (5 flores and above) condominiums that have $0.40 psf /month condo fees or less.
How those buildings are look like

, their market value, condo fees, $ psf and age are below: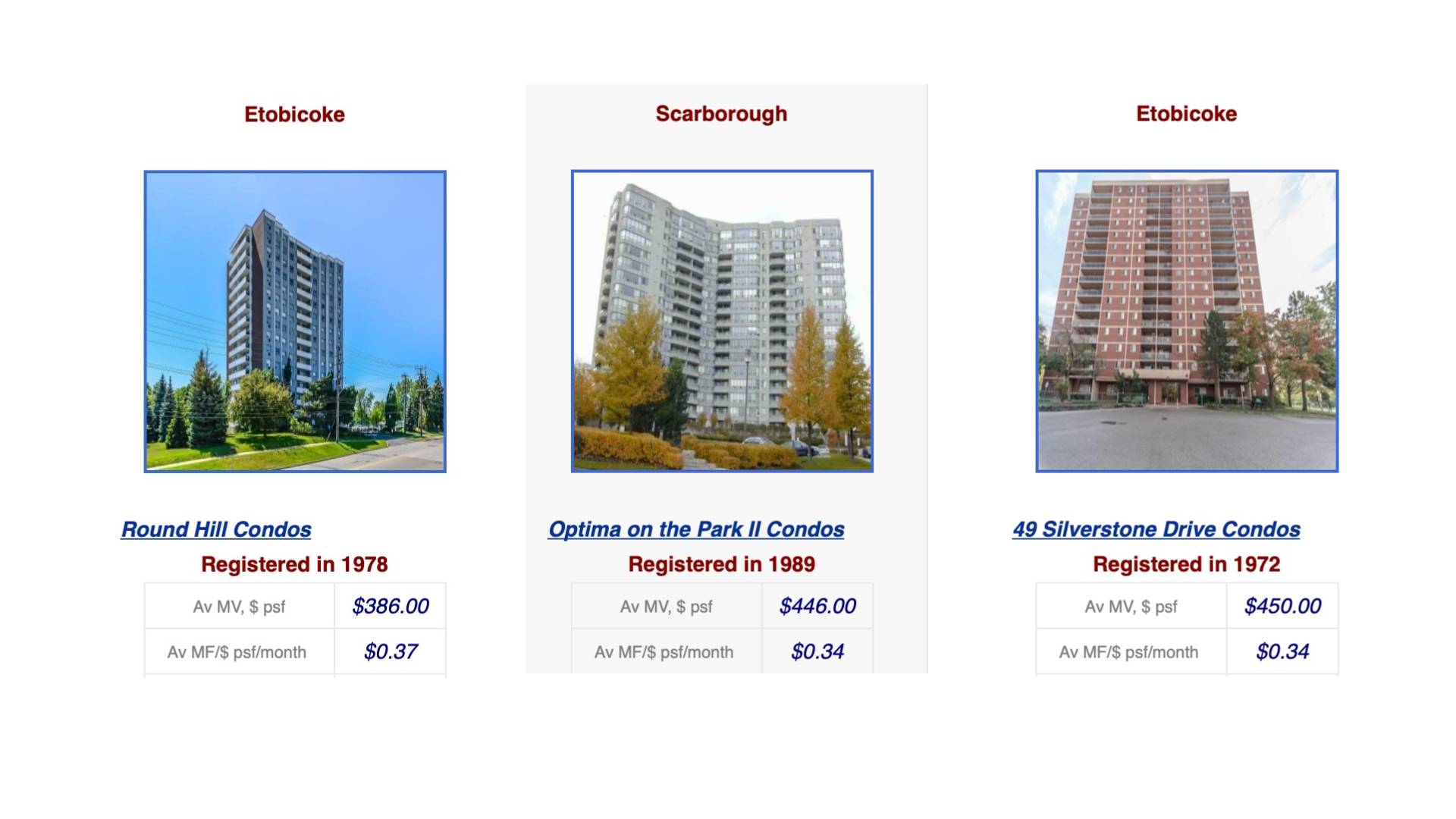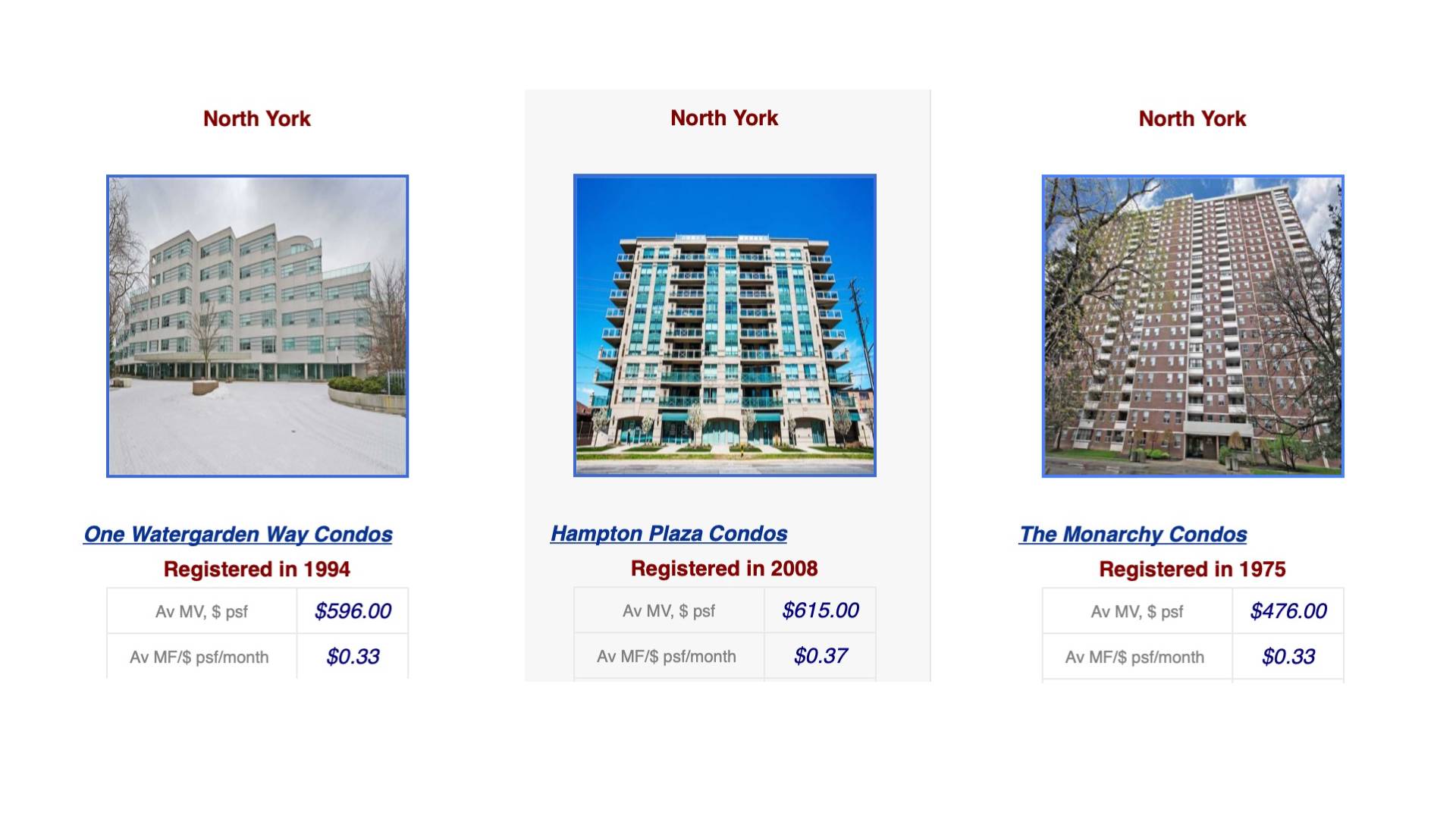 So, there are just 9 buildings in Toronto & GTA that are able to maintain the buildings spending $0.40 and less.
Their locations: 1 condominium in Toronto, 2 in Etobicoke, 1 in Scarborough and 5 in North York. Basically, all of them are condos of low market price category, except 2.
It means, such low condo fees were not enough to maintain and increase a property value. 
CondoBI team was looking for any good examples of a higher level of maintenance and a property value with just $0.40 condo fees limit.
It was not possible to find such example in Toronto&GTA but there are many examples in Montreal
and, according to statistics of 2018, average condo fees in Toronto fees were ~ 3 times higher than in Montreal.
This is an example that proved it is possible to spend less money for greater services:
The address: 300 Av. des Sommets #702-703 Montréal (Verdun/Île-des-Soeurs), Quebec H3E2B7 MLS® Number: 19881534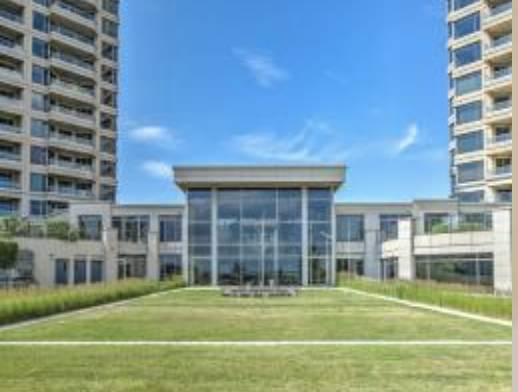 Price is $1,800,000  for 244.8 m SM (or 2635 SF)
3+1 washrooms 3 bedrooms 3 parking places
2005 year of registration. $1037 condo fees/month, it is $0.39 psf/month.
Listing Description:
OVER 2,600 SQ.FT OF LIVING SPACE. Incredible condo with spectacular unobstructed views of the river from each room. The property boasts grand proportions, high quality finishings, an inviting open plan, large fenestration, 3 sizeable bedrooms with ensuites, 2 private balconies, 3 parking spaces -- building with 24/7 security. 
Property Type Single Family 
Storeys 23
Neighbourhood Name Île-des-Soeurs
Title Condominium/Strata
Built in 2005
Parking Type Garage
This is a bright example proves that there is a management company in Montreal that manages a luxury condo building collecting just $0.39 psf/month condo fee.
Are there any property management companies in Toronto & GTA that could showcase their best practice as well?
Which financial and non-financial improvements
(better quality of services or a high quality of repairs in the building, or financial economy or efficiency)
have been acheved because of great professional skills of such management company?
Let's Condo Directors and Condo Owners know about your best practice!